Light beacons have become an essential feature of many gardens, terraces, and even indoor spaces like staircases and patios. They highlight dominant axes with elegance. LED models can run continuously, are fairly failure proof and provide extra security for a minimal power consumption, something that suddenly opens many possibilities. Below some advices to highlight your open spaces.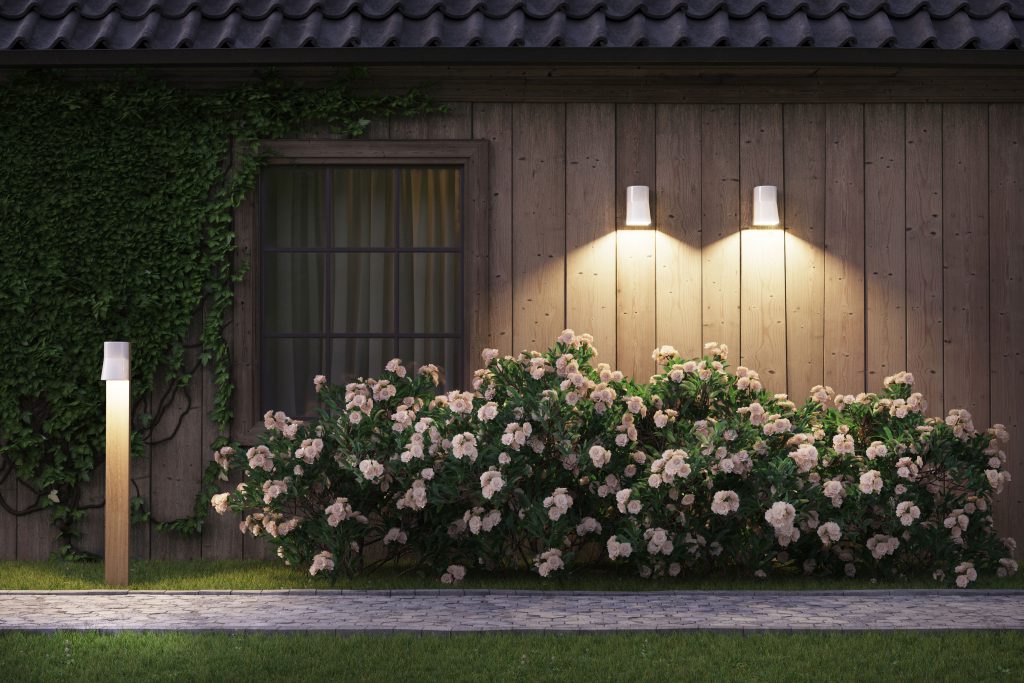 1- An essential aesthetic feature and a real practical value
Light beacons have always existed for gardens, first in the form of torches and gas lamps, now in a variety of forms such as bollards, spotlights or more creative designs. They will typically highlight a path, remarquable trees of vegetation features, a wall, a fountain or an alignment of statues. Royal Botania has a large set of such quality fixtures. We love Robers for his forged iron creations, which are often as much sculptures as they are lighting fixtures. Obviously, some of these lights can also light the path to the home, although the difference between marking and actually illuminating is important if the path is irregular or slightly treacherous.
Indoor, the use of beacons in private houses to highlight a corridor, a staircase or a balcony is a more recent decorative trend – notably enabled by the arrival on the market of ad-hoc lights, aesthetic, reliable and energy efficient. It is more elegant to install several lights, to create a luminous path.
From an aesthetic point of view, these lights emphasise a particular axis of the space, often horizontal but sometimes vertical as well, and accentuate the impression of distance, especially if they are installed at regular intervals – one can choose a spacing of 100cm to 200cm typically. These lights can be found with various colours – but we would recommend a certain sobriety, keeping to the white or maybe blue.
From a practical point of view, these lights bring an undeniable increase in comfort and safety, especially for children: the LED models are designed to remain permanently lit, and guarantee a minimum of light in the corridors and stairs, which helps navigating at night without turning the main lights on.
In economic terms, recent good-quality LED beacons use only minimal power – about one-hundredth of a conventional light bulb. The installation of LED beacons in your home is therefore totally insignificant on your electricity bill – even if they are turned on continuously. For outdoor use, LED beacons can eliminate the need to turn on more consequent lighting and still provide the comfort that will make the visitor feel welcome.
2- The importance of quality
These luminaires must guarantee a high level of reliability: if they are inside they are often difficult to access; if they are outside, they are subject to humidity and corrosion. We therefore recommend avoiding the numerous cheap products. They do not provide all the guarantees of safety, reliability and optimal consumption, and even more importantly they will probably degrade rapidly and may prove difficult or impossible to repair.
Some of these lights are designed to be ground recessed, and are therefore designed to support the weight of a piece of furniture or a person.
Lamps for the outdoor must be designed for that purpose. Low-voltage wiring can provide additional safety if the integration of a driver is possible. Electricians often prefer to install standard 230V cabling. Even outdoors, 230V models are often – but their installation must be rigorous and compliant with safety standards.
3- Installation: avoid improvisation!
Many models of beacons are recessed. It is imperative to check the dimensions provided by the manufacturer, and to provide enough space for the light, with a little extra for the domino that the electrician may have to leave inside (especially to prolong the electrical connection to the other locations). Many of these lamps are powered directly with 230V, which simplifies the installation by avoiding the installation of a specific transformer, in some cases difficult to fit and often failure prone.
In summary, to simplify the development of a light path in-door:
The installation is generally easier when you are doing a substantial overhaul, which is often a good opportunity to install the recesses and power supplies;
Mounting the lamps in the wall about twenty centimeters above the ground is easier than in the floor itself, and the models are comparatively cheaper;
Installation in plasterboards is easier than in a solid wall;
230V beacons are generally simpler to implement than low voltage ones, and often more reliable.
Installation can be easier out-doors unless you want to fit the lights in hard surfaces (walls or concrete floors), the main challenges being the quality of the products to resist humidity and corrosion (they should be manfufactured for out-door use, but do check the waterproofness specifications in the product documentation, and their compatibility with your local standards), and the quality of the wiring. If the installation is consequent, do keep a copy of the wiring drawings, to find them back the day you need to intervene.
Where to find our light beacons?
You will find various types of beacons on the following pages: