A little guide to recognise the various bulb models, and buy the right light bulb for your lighting without making a mistake
1- 230V bulb models
E27 base bulbs – These 230V bulbs have a 27mm diameter screw cap. They are very common and available everywhere. They exist with different electrical powers, eco-halogen, compact fluorescent and LED. Today there is an infinite number of outer casing shape: elongated (the most common) and spherical, more compact, which allows a saving of space (2 to 3 cm in length less) useful in some luminaires, or large 80, 100 or 120mm globes intended to be conspicuous, with mirror effect, etc …
E14 base – Same as above, but the base is smaller (14 mm in diameter). The envelope often has a spherical shape unless they are shamed as flames (see below).
Flame E14 bulbs – E14 bulbs 230V with elongated envelope – especially to have a more aesthetic shape on a chandelier. Some of these bulbs also have elaborate forms, twisted or "gust of wind".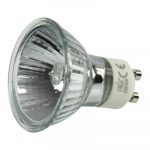 GU10 base bulbs – 230V bulbs with built-in reflector used in many spots. They have a bayonet base.
G9 Bulbs – Very small 230V bulbs often used in articulated desk lamps and some bedside lamps.
2- 12V bulbs
Low voltage bulbs for luminaires that are either equipped with a power supply that converts 230V to 12V, or that must be connected to an ad hoc transformer (typical case of recessed spotlights). There are four main families:
GU5.3 Bulbs – These 12V bulbs are equipped with a built-in reflector. They are used massively in recessed downlights. They are available in several beam widths (10 °, 24 °, 36°, 60 °).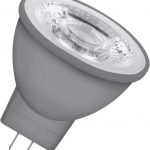 GU4 bulbs – The little sister of the previous, characterized by a lower diameter (40mm instead of 50mm) and a spacing between the rods of 4mm instead of 5.3mm. Generally only available in 20W and 35W, 10 degrees and 30 degrees. Not to be confused with the G4 bulb described below.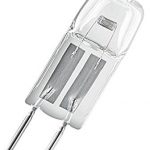 Bulb G 4 – Very small 12W bulbs without reflector, with two rods to insert in the base of the luminaire. G4 and G6.35 (see below) are not compatible with each other: the rods of type G4 are spaced 4mm apart. Not to be confused with G9 bulbs that connect directly to the 230V and which rods are bent.
G 6.35 Bulb – Same as the previous model, but slightly larger, and the rods are spaced 6.35mm apart. See note on risk of confusion with G9 above.
3- Other more exotic categories
Tubular bulbs or R7 bar – This is the classic bulb for 230V halogen lamp and for some waterproof garden projectors. It varies with two parameters: the length (which can be 78.3mm, 117.6mm or more rarely 187.3mm or 252.3mm), and the electrical power. Trade names often round the length – for example a 117.6mm tube is called "118mm tube". They now also exist in LED.

Bulbs B22 – This is the grandmother of our bulbs, with a bayonet base. It is not used by modern lighting anymore. Available with large envelope (often available in halogen 105W and 140W) and with small envelope (often in 40W, for hand lamps and outside garlands).
PAR 16 bulbs – This type of 230V bulb with reflector and E14 base is sometimes found on some small spots, a sort of cross between an E14 bulb (for the base) and GU10 bulb (for the reflector). In the same sub-family, we find the PAR 20, 30 and 38 bulbs, all of which also have a reflector, but with an E27 cap: these are the large bulbs with reflector that are found in some large size spotlights – in particular for garden or architectural lighting.
Bulb B15D – A small 12V bayonet tubular bulb. It is sometimes found on luminaires – including some Nautic models – where space is very limited. Its original purpose was automobile turn signals, and it is also often found in nautical equipment (navigation bulbs). It also exists in 24V.