A much better solution than air conditioning to cool off in the summer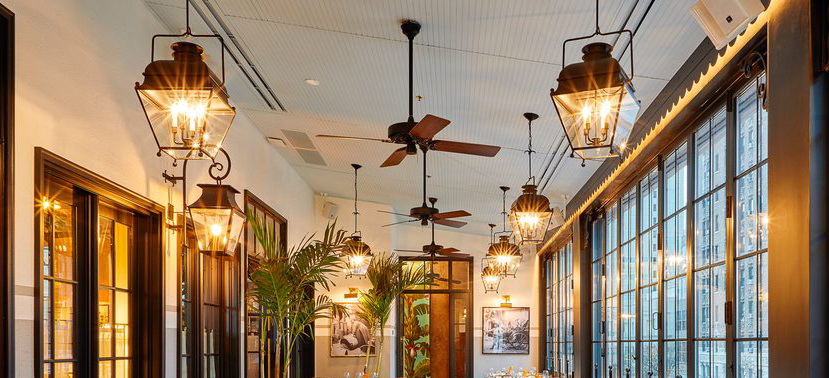 Ceiling fans in the dining room of the Colonial Hotel in Chicago
In most circumstances, a good ceiling fan has many advantages over an air conditioner:
Energy consumption 30 to 50 times lower – A powerful ceiling fan consumes 50 to 75W at full power, and typically 20 to 30W at reduced power, good enough at night. An individual air conditioner consumes a minimum of 1000W (absorbed electrical power) – that's 30 to 50 times more consumption on your electricity bill!
No colds or allergies – A fan moves the air of the room, which improves the thermal exchange between your body and the ambient air. It does not cool the room temperature. So no hot and cold effect to fear, no cold or angina in the middle of summer!
Ease of installation – Do you have an electric plug on your ceiling, designed to install a suspension? That's all you need! The fan attaches like a chandelier, and plugs into the existing socket. Installing an air conditioner is more complex: it must be connected to the outside to remove calories from the room's air. This requires either leaving the window open to let a large pipe through (not very sensible when you want to cool the room), or in the case of fixed-station air conditioners, drilling holes in the outside wall of your room and and therefore calling a specialist installer. For an apartment, this usually requires permission from the condominium. And then you will be stuck with an unsightly, cumbersome and noisy technical block on the outside of your home.
Operating silence – A quality ceiling fan (e.g. those really beautiful here) is totally silent. Commercially available portable air conditioners generate a typical noise level of 50dB to 55dB – the sound of a washing machine in operation. Not easy to reconcile with a restful sleep.
Decoration – ceiling fan manufacturers offer many models, integrated into most interiors, which bring a more decorative original and can be particularly aesthetic. Individual air conditioners are sadly dressed in white plastic: not very pretty!
Sustainability – A quality ceiling fan will last for decades without repair, while a portable air conditioner ages quickly: after only a few years, the connection pipes break down, and the refrigeration fluid needs to be changed.
No handling – A portable air conditioner will serve only a few weeks a year. The rest of the time, you will have to store it somewhere out of sight, and you will find it is not that "portable": these sets often weigh tens of kilos, are attached to pipes and often full of water. A beautiful ceiling fan will always decorate your room, whatever the season.
So what are the advantages of air conditioners? They are particularly useful in the following cases:
In case of really overwhelming heat;
In case of very humid heat as they dehydrate the air;
In an enclosure directly exposed to the sun, like a car in the summer.
For effective cooling under these conditions, however, you will need to a high-powered air conditioner, which is quite rare in the case of portable air conditioners. Conclusion: in our latitudes, even in the south, a ceiling fan is a much healthier, aesthetic and economical solution than a fixed or portable air conditioner.
Some points to note when choosing a fan:
Large ceiling fans have a much greater aerodynamic efficiency than the smaller "table" models: the amount of brewed air is maximum with an optimal electrical consumption. Their large blades cool the entire surface of a bed.
Do note that the silence of their operation depends entirely on the quality of their manufacture: the quality of the engine and bearings, the profile and rigidity of the blades, the precision of their assembly to avoid vibrations. Ceiling fans are available at all prices, but don't expect silent operation with the most economical models.
Finally, should we be tempted by a fan with lamps? They are appreciated, especially for recreating specific atmospheres, often from bars or hotels. But at Vraiment Beau, we love beautiful light fixtures, and it's quite difficult to find a beautiful quality fan with a beautiful lamp. We also think that a beautiful, uncluttered fan is timeless, but that a fan weighed down by a lamp will be more difficult to fit into the décor of a room.
Tips for installing and enjoying a ceiling fan:
For optimal operation, the bottom of the fan should be about 2.40 meters from the ground;
A great place to place your ceiling fan the socket for the suspension above or near your bed for a sleeping room, or above the lounge parts of your other rooms;
To sleep in the summer and make the most of the fan's efficiency, wear only light nightwear – or sleep naked – and cover yourself only with a cotton sheet. A slow speed will be enough even on the hottest nights in Europe;
Tip: you can also use your fan in the middle of winter, especially in high-ceilinged rooms (mezzanines, cottages, etc.) It allows for efficient mixing of the room's air, which optimises the efficiency of your heating and circulates down the hot air that tends to accumulate under the ceiling.
Vraiment Beau has selected the Woo Woo Woo brand for the quality and robustness of its fans, handcrafted by a family manufacture according to classic designs, updated by an enthusiast in Belgium. Check out our selection here.